By Gary Luther
Towayam photographer, 1965
"Never let the facts get in the way of a good story." - Mark Twain
To preface is to deface. Usually no one reads them anyway. Readers are anxious to get to the good stuff. Since literacy requires effort (unlike radio, TV, videos, etc.), the reader must be rewarded. We aim to please.
"I'll bet the thought of throwing anything away would have you shaking in your sandals," my wife chided. If I had followed her advice, there would be no story to tell. Besides, the entire collection of 35mm negatives for the Towayam fit into a small plastic shoebox. Perhaps the 2,000+ books in my library were the real source of her displeasure. Also, she loved pulp romance novels. I didn't have one on my shelves except those boring classics recommended for English majors.
While the marriage didn't survive, the Towayam negatives did. For every photo used in the yearbook, there were at least ten frames shot. You might say the contents of this CD are the "out takes."
Since I developed each roll of film and made prints one at a time, I wasn't anxious to print them all. Teenagers are inherently lazy, just getting accustomed to the notion of work. Forty years later, thank the Winn-Dixie photo lab that printed the remaining images you didn't see in your yearbook.
As a photographer, I'm self-taught. When I was 14 years old I read (and followed) the instructions accompanying all photographic materials. My textbook was Basic Photography , a tech manual published by the Army Air Corps. Beyond that, practice has been my teacher.
IMPORTANT: Towayam is an acronym meaning "To The Way of America." It is not "Tow a Yam." Likewise, the student newspaper Wi-Pa-Hi-Sc suggests "Winter Park High School," even though it sounds like some x-rated activity.
Okay, maybe I lied about prefaces. Let the Towayam tattling and true confessions begin!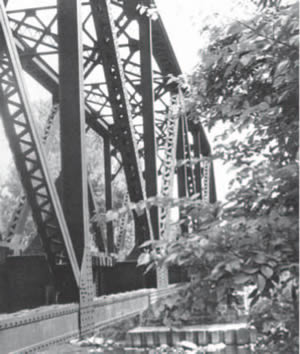 TALE #1
Turn to page 81 in your Towayam and you'll find a photo spread worthy of the Winter Park Chamber of Commerce. Note the rustic railroad bridge. It was built in 1888. Can't remember its location? Try Westerville, Ohio, ten miles north of Columbus. I took it while working at nearby Glengarry Pool in the summers of 1963 and 1964.
The Ohio bridge photo was in my portfolio when I "interviewed" to become Towayam photographer. As the Towayam publication deadline approached, there were still blank spaces. The out-of-town bridge was handy; the temptation was too much. It looked so good in the layout. No one ever said, "Hey! This isn't in Winter Park!" Speaking as a former newspaper reporter and editor, don't believe everything you see in print.
TALE #2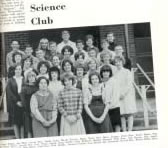 Martha Puckett was on the Towayam staff. Then a bad hair day struck. Check out Martha's hairdo on pages 145 and 147. Through the magic of India ink, she suddenly acquired the Cleopatra look. Was this editorial punishment for a yearbook staff member who attempted double exposure in the Science Club's photos? No darkroom accident can be blamed here.
TALE #3
Your reunion CD contains several photos of students wandering on the athletic (staph) field. This wasn't caused by spring fever. It was the result of a bomb scare in the days when phone calls cost a dime. While these photos were not included in the yearbook, see the still life taken in the Towayam office on page 233. Someone taunted editor Huntley Dent with "Huntley, your yearbook's gonna bomb!" Wi-Pa-Hi-Sc cartoonist Bob Wannall commemorated the event in the attached jpg artwork.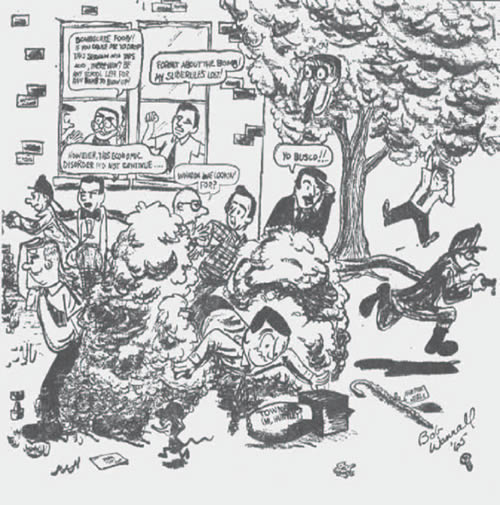 TALE #4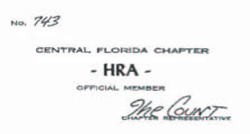 Politics! Is anything ever new? Remember the debates about None Dare Call It Treason versus None Dare Call It Reason ? John Stormer's book still shows up in used bookracks. Our WPHS Goldwater Girls (page 42) got rained on at the Colonial Plaza Mall rally. Tastefully, all of those wet blouse photos weren't printed. The Johnson rally negatives (same place, different day) included photos of the Secret Service agents on the Colonial Plaza roof. We suspect they were carrying more than radios. The first photo on page 44 shows "USA" sign, but crops out the "HRA" that was above it. Was this another example of editing any overexposure?
TALE #5
Did you know that the 1965 Towayam was the first to use 35mm cameras exclusively (excluding individual portraits)? My predecessors used 4x5 press cameras, which were bulky, slow and expensive. Try loading a 4x5" film carrier quickly. "You can't make a good 8x10 from 35mm negatives," they warned.
My own camera was a 35mm Zeiss Ikon Contaflex single lens reflex, which lets you see what the film sees. Press cameras don't. I heard, but didn't follow the previous Towayam photographers' advice. Perhaps I was remembering my great grandmother's saying, "A word from me and do as you please."
Other 35mm cameras borrowed through the year included a Nikon F with 200mm telephoto, a Retina IIIc from Huntley Dent's father, and Dr. Hotaling's Leica M3. Nearly all photos were shot with available light, including basketball games. Football games required Press 25 flashbulbs.
To vary the backgrounds in club and group shots, I often used a ladder. The cheerleaders on pages 104-105 are an example.
All the prints were made on a Bolsey microfilm reader that I bought from classmate Harry Waters. Since its lens didn't have an iris, an auto tail light bulb attached to a toy train transformer controlled the intensity, much like the dimmer switch used in homes. Other shutterbug technical tips are offered in the Camera Club text on page 143.
TALE #6
An Orlando Sentinel clipping stapled to my 1965 Towayam reads:
'65 Towayam Wins Honor

The National Press Association announces that a First Class honor rating was awarded the 1965 Towayan [sic], Winter Park H.S., Winter Park, Florida, in the 45th All American Yearbook Critical Service of the National Scholastic Press Association.

More than 1,000 student yearbooks from high schools all over the national are judged by NSPA in groups divided by enrollment.

The top honor rating, All American, represent superior accomplishment and is reserved for top publications. A First Class honor rating means the yearbook is good but lacks the outstanding qualities need [sic] for All American.
The Towayam didn't get first place, but we gave it our best effort. Obviously, the Orlando Sentinel proofreader wasn't having a good day, either, as you can see above. Humility set in. So it goes.
WPHS TEACHER RECOLLECTIONS
Ed "Papa" Creech taught economics and Problems of American Democracy. At one pep rally he donned a wig and banged on a cardboard box imitating Ringo Starr. He liked his students. He also liked to teach and it showed.
When the alleged Gulf of Tonkin incident occurred in Vietnam, he told the class, "This will get a whole lot worse before it ever gets better." How prophetic. I wonder if he foresaw asterisks by the names of dead graduates in the WPHS alumni directory.
Maude Gimon was my shorthand teacher. She taught me how it feels to be a minority. I was the only male in her shorthand class. Every session would begin with "Now girls.and Gary."
This skill was invaluable in college. As a journalist, getting accurate quotes is essential. A reporter can retell any story, but direct quotations make it more personal and interesting. My non-shorthand colleagues preferred the retelling technique, avoiding any difficulty. Their only alternative was a clumsy cassette tape recorder. Then it took additional time to review and transcribe the tapes.
Shorthand was neat, portable and required no batteries. Best of all, it impressed and delighted many women in my life who also knew Gregg shorthand. Thanks, Maude!
BIOGRAPHICAL & SIMULATED TRUTH DEPARTMENT
"Every good newspaperman needs an infallible, unbreakable B.S. detector." - Ernest Hemingway
"Let the fur fly." - Slogan of a defunct Louisiana weekly newspaper
After graduate studies in Victorian Literature at Florida Atlantic University, Boca Raton, I arrived in New Smyrna Beach in 1971 with 1/64 th of a tank of gas. I've been here ever since. I'm in my element, although in recent years the city has become overdeveloped and underplanned.
As pro bono local historian for the past 30 years, I'll share a secret. There's good reason to believe that the first site of St. Augustine was here. You could buy my well-illustrated 128-page book, History of New Smyrna, East Florida ($8.95 and appropriate sales tax, plus $2.50 shipping). Or check the web site listed below when it gets finished in a few months.
"Where in the hell is New Smyrna Beach?" my out-of-town friends would ask. Those who visited found a quiet, small town with plenty of retirees. It was too quiet (and boring) for some. Others got the impression that I had retired as well. Not true! Here's what kept me busy.
NEW SMYRNA BEACH OBSERVER . Co-founder and editor.
"Starting a newspaper is absolutely the best introduction to the who's who and what's what in any town. You can ask questions with impunity. Besides, most folks are on exceptionally good behavior and cooperative when they know their remarks will appear in print. If you can take pretty pictures, it's icing on the cake.
"The Observer is still published today. Now it's owned by an out-of-state newspaper chain. While they never seem to have enough money for reporters, ad salespeople are plentiful. It only proves that you never know how your children will turn out. You can only hope you've pointed them in the right direction."
JOURNAL OF PUBLIC-SAFETY COMMUNICATIONS . Editor.
"After the Observer , I discovered a national association headquartered on the main street in town. The Associated Public-Safety Communications Officers, Inc. needed an editor for its monthly magazine. Their upstairs office was low profile. In fact, it had escaped my nose for news completely. The magazine was printed on glossy paper, used full color, and was filled with ads sent from national advertising agencies.
"APCO was formed in 1935 by police radio technicians. It was the originator of the Ten Signals (10-4?), and is the reason your TV doesn't have Channel 1. When the big networks were carving up frequencies for television usage in the Forties, APCO petitioned the FCC to reserve the Channel 1 frequency for police radio use. Today APCO coordinates all US public safety frequencies for the FCC."
LUTHERS' PUBLISHING
"With my brother Alan (WPHS Class of 1967), we opened this electronic editing and publishing house in 1988. Alan assembled the original computer system. He returned to work in environmental testing laboratories in 1997. (All publishers don't get rich.) To date, Luthers' has published the books of over 100 different authors. These paying authors help finance my own local history and facsimile reprint titles.
"All printers aren't publishers; all publishers aren't printers. Services provided include art, design, typesetting, editorial, copyright, ISBN, Library of Congress CIP, UPC bar codes, and marketing. We don't print; our hands are clean. The size and complexity of each book suggests which printer is likely to do the best job.
"As the sign in the window says, 'By Chance or Appointment. Always.
10-5 Mon.-Fri. Usually.' Of course, there's a 'NO SOLICITING' sign on the door, but nobody believes it or else it's too long a word."
LUTHERS' PUBLISHING
1009 North Dixie Freeway
New Smyrna Beach, FL 32168
(386) 423-1600
Peace be with you. Until next time, dim the lights and play "Goodnight My Love."